Title: The Unwinding: and other dreamings
Author: Jackie Morris
Genre: Illustration, Poetry
Publisher: Unbound
Publication Date: 9th July 2020
Rating: 5/5
Cover: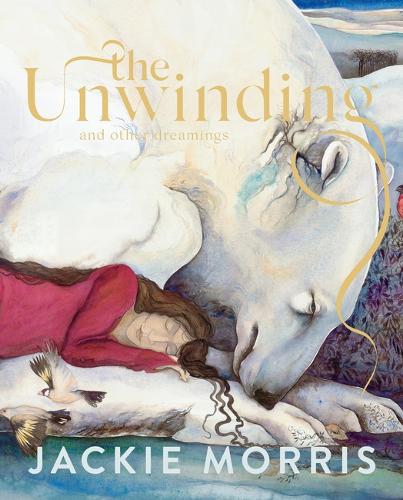 Summary:
This book is not meant to be read from cover to cover. It is a book for dreamers. Slight of word, rich of image, its purpose is to ease the soul.
The paintings between these covers were worked in the between times, an unwinding of the soul, when the pressures of work were too much. Dreams and wishes are the inspiration at times like this. Threaded through the curious world of The Unwinding are words, slight and lyrical. Their aim is to set the reader's mind adrift from the troubles of our times, into peaceful harbours where imagination can stretch, where quiet reflection can bring peace.
Review:
This is a bit of an unusual book in that it is sort of it's own genre – 'a pillow book, to prompt dreaming and creativity' – which is such a gorgeous concept and one it totally succeeds at. It is a small book of incredible beauty full of the stunning artwork and words of Jackie Morris whose illustration work is adored by many. You are not meant to read it cover to cover, it is to be taken in small doses, particularly before bed and then placed under the pillow. It is a way to relax and unwind in this hectic, often overstimulating and frequently stressful world. Honestly, the timing of The Unwinding's release is scarily perfect – 2020 is the year for a book like this. This year has been so full of difficulties and anxiety and recently I've really appreciated the quiet serenity of looking through The Unwinding when I've felt particularly tense.
It's actually quite hard to do the beauty of this little gem of a book justice in a review! On the one hand I desperately want to repeat some of the lyrical and mystical words and show you the stunning artwork but, genuinely, it deserves to be discovered in the individual way it is intended to be appreciated. Everyone will get something different out of it and it is very difficult to explain just how elegant and exquisite the artwork is. Jackie Morris is an absolute master of watercolour. Her work is so graceful and entrancing. I am an artist myself and I am in complete and utter awe of her skill. The images she creates tell such stories and generate a real feeling of calm and tranquility in the mind of the reader. There is a depth and otherworldly atmosphere to both the words and art in The Unwinding which feels almost magical.
I was planning on naming a few of my favourites from the stories but it feels like to do that I would be doing the book a disservice because they are all so full of richness and beauty and I really think the reader will connect with different stories at different times so it feels wrong to pick out just a few. The white bear is a recurring character of sorts and being slightly obsessed with bears I had a soft spot for this book as soon as I saw the cover but each page revealed yet another gentle and spellbinding piece of art which made me totally fall in love with The Unwinding. I cannot imagine anyone regretting owning this treasure of a book and I realise I'm gushing just a bit, but it really is that wonderful.
Thank you so much to Anne Cater of Random Things Blog Tours for inviting me on this tour and organising it. I kindly received a copy of the book from the publisher. My review is my own honest opinion.