Title: The Wicked Sister
Author: Karen Dionne
Genre: Psychological Thriller
Publisher: Sphere, Little Brown
Publication Date: 4th August 2020
Rating: 5/5
Cover: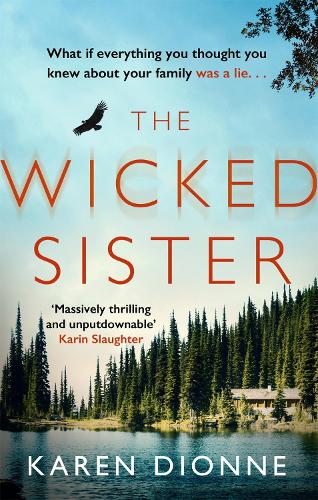 Summary:
You have been cut off from society for fifteen years, shut away in a mental hospital in self-imposed exile as punishment for the terrible thing you did when you were a child.
But what if nothing about your past is as it seems?
And if you didn't accidentally shoot and kill your mother, then whoever did is still out there. Waiting for you.
For a decade and a half, Rachel Cunningham has chosen to lock herself away in a psychiatric facility, tortured by gaps in her memory and the certainty that she is responsible for her parents' deaths. But when she learns new details about their murders, Rachel returns, in a quest for answers, to the place where she once felt safest: her family's sprawling log cabin in the remote forests of Michigan.
As Rachel begins to uncover what really happened on the day her parents were murdered, she learns – as her mother did years earlier – that home can be a place of unspeakable evil, and that the bond she shares with her sister might be the most poisonous of all.
Review:
I've been looking forward to reading The Wicked Sister for months and accordingly my expectations were very high. I can happily confirm it totally lived up to those expectations. The story follows Rachel, a young woman who has spent fifteen years of her life in a mental hospital because she is convinced she is responsible for the death of her parents. Her memory is unreliable and full of holes and after all this time she starts to question everything she thought she knew about her past. This question about what really happened sends her back to her remote childhood home and into a dark confrontation with her sister.
I loved this book. It is the very definition of the word unputdownable, proved by the fact I stayed up until 3AM finishing it because I had to know the truth about what happened to Rachel and her family. The narrative is split between the present – following Rachel and her quest to uncover the truth and the past – following Rachel's mother as she raises her family, including Diana, Rachel's complicated and dangerous elder sister. This works beautifully. I always think the mark of a successful dual narrative is if, at the end of each section, the reader is desperate to remain in that place and time. That was very much the case here, I kept wanting to know more and each narrative was equally addictively compelling.
The question of nature versus nurture is very much at play in The Wicked Sister and it is an endlessly intriguing concept. The question of how a parent, who is supposed to love their child unconditionally, should deal with the fact that their child may be a genuinely evil person is so complicated and never fails to make the reader think about what they would do in that situation. This book also delves into the question of culpability and consequences of living with absolutely no sense of empathy, remorse or doubt. It makes for a harrowing and dark read which completely draws you into the world of these characters and makes every moment tense and unpredictable. Another aspect this book does so brilliantly is the incredible sense of setting. Most of the book takes place in the family's remote and palatial land in the upper peninsula of Michigan. It is a place that creates the most fantastic sense of atmosphere, isolation and of the power of nature. Both Rachel's mother, a wildlife biologist, and Rachel herself have a true passion for bears (a passion I happen to share – which just made me love this book even more). Dionne weaves this love of nature and animals into the story of this family in a powerful and creative way which is mirrored in terrifying fashion by Diana's obsession with taxidermy. I really can't sing the praises of this brilliant psychological thriller enough – it is definitely going to be one of my favourites of the year. It is an intense, shocking, emotionally engaging and superbly written book. Highly recommend.
I kindly received a proof copy of the book from the publisher. My review is my own honest opinion.